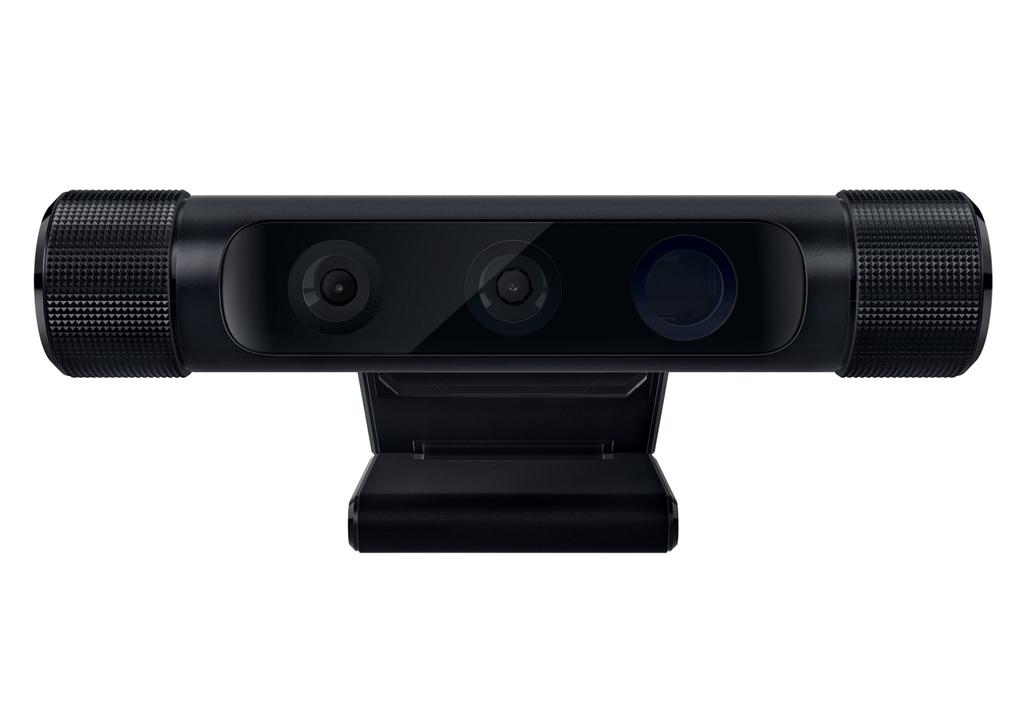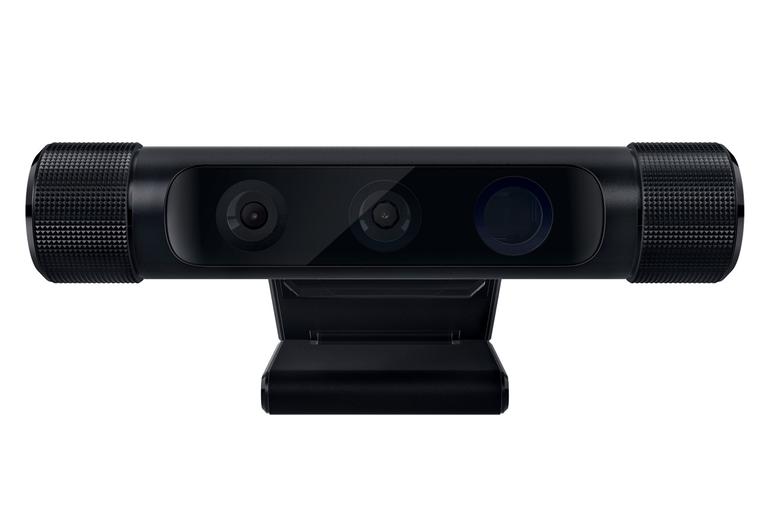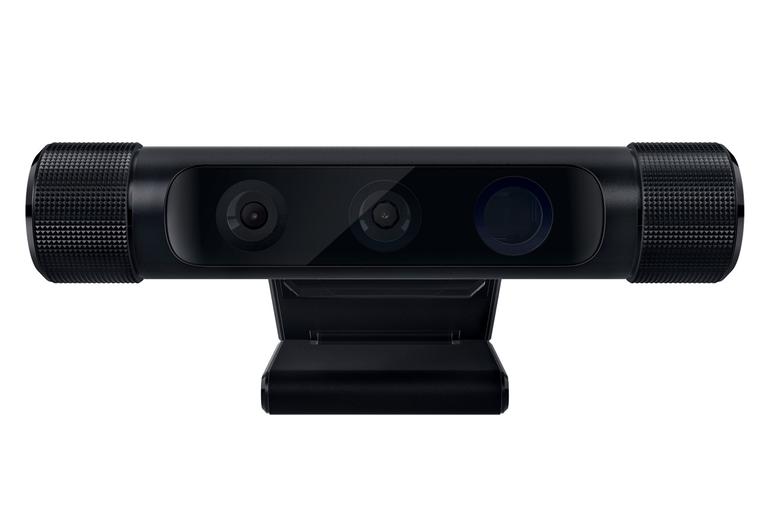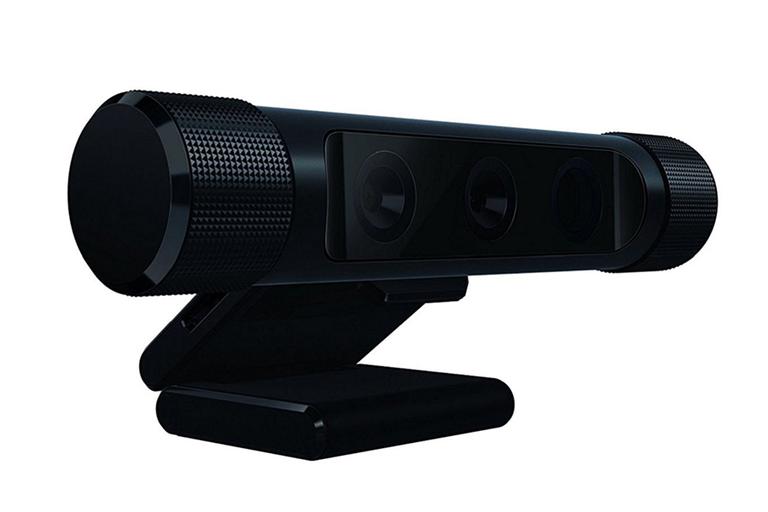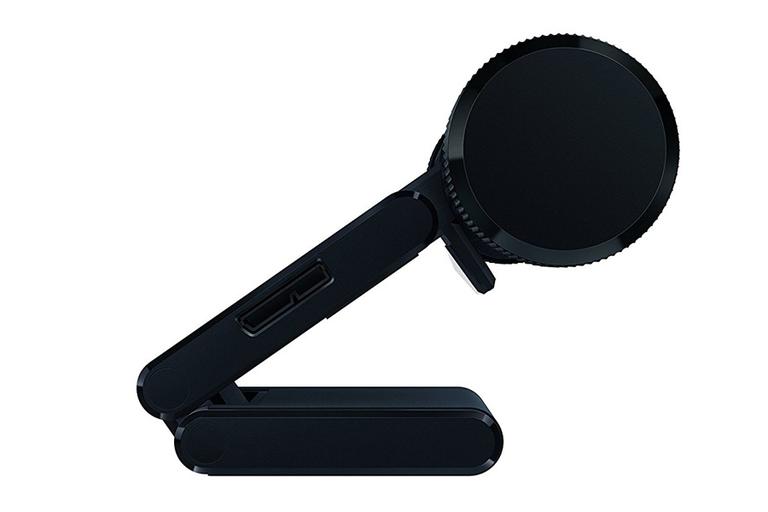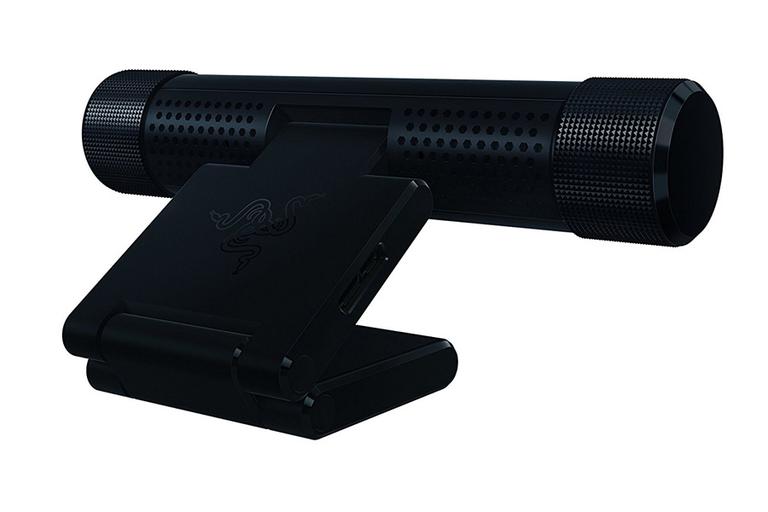 The Pros
Great noise cancellation;
Excellent background removal;
Works with Windows Hello.
The Cons
Lower video quality than competitors;
Minimum specs limit it to newer computers.
Verdict
The Razer Stargazer is the best alternative to a green screen on the market for game streamers, but its video and picture quality aren't as good as on some other webcams.
The Razer Stargazer is not the sharpest webcam around but it definitely makes sure to silhouette your head and torso so that your face can float on top of presentations or games!
Design
The Stargazer is larger than the average webcam reaching 5.1 inches in width and 1 inch in thickness. The camera has three sensors that are mounted across the front: color sensor, an infrared sensor, and an infrared laser projector. They're flanked on the sides by microphones and raised handles that allow adjusting the angle of the camera angle.It has super simple mounting thanks to the hinged design with the mounting arm, but the fit, unfortunately, is a bit looser than it is on the C922.
Intel RealSense and Hardware Requirements
For depth perception and an excellent dynamic-background removal feature, the Stargazer uses Intel's RealSense technology. It limits the camera to Windows 10 computers with sixth-generation or later Intel Core CPUs. Although it has a great benefit when it comes to streaming, there's a great opportunity to use the infrared camera with Windows Hello to make a facial scan that will allow you to log in to your PC as well. That's pretty cool!
Picture and Sound Quality
The Stargazer offers great sound and takes decent photos and videos. On Twitch you won't be the sharpest-looking streamer, but your Skype calls will be definitely crystal-clear. The camera has strong color accuracy, but it has a hard time focusing on smaller details, which results in fuzzy details. The Stargazer has a great microphone and is good at filtering out ambient noise.
Software and Streaming
The only software requirement is Razer Synapse. It's program of the company for configuring all of its peripherals and laptops. It's dead-simple if you have a Razer keyboard or mouse. Synapse has a few adjustment sliders to change contrast, saturation, and other image options. Also, it has a link to a web page with software that uses RealSense. The site mostly links to experimental face-scanning apps that you can download, but to live-stream, you'll need some streaming software, such as XSplit Gamecaster or Razer Cortex. In addition, The Stargazer can capture a shot at 60 frames per second at 720p (or 30 frames per second at 1080p).
Performance Impact
In order to avoid any performance issues, Razer recommends using a second streaming PC. However to test Stargazer performance test runs of Rise of the Tomb Raider and Overwatch on the Razer Blade Pro were played. The test was in two different lighting situations: a darkened room and a bright lab. Games stuttered at 4K on high settings, just as did the video in the stream. But after pushing the system to its limits, there was much less lag at 1080p, so you could play Overwatch at a smooth 111 frames per second.
Other Uses
Besides gaming, owners may have other reasons to use the Stargazer since it is currently the only external RealSense camera on the market. For example, if you wish to spice up your conference calls, a RealSense-ready version of Personify puts you on top of the desktop to better share your desktop, presentations or even Youtube videos with you floating on top of it.