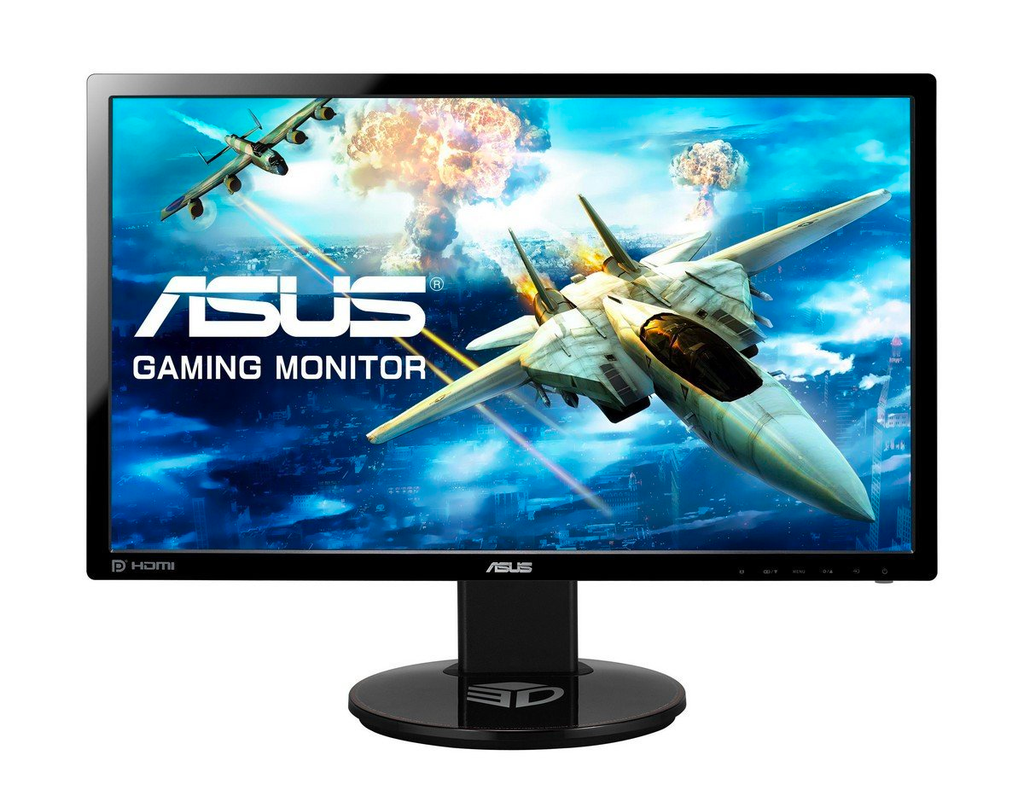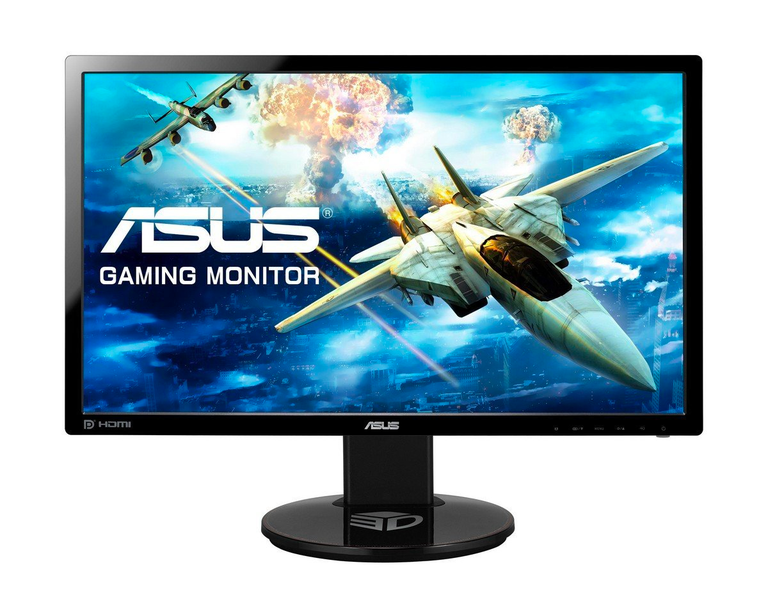 The Pros
Ergonomic stand;
144Hz refresh rate;
Fast pixel response
The Cons
No USB ports;
3D gear is not included;
Narrow viewing angles
Verdict
The Asus VG248QE is a good performer with its 24-inch screen, speedy pixel response, 144Hz refresh rate, and a highly adjustable stand but could use a few more gamer-centric features.
You can spend a ton of cash on gaming rig but if your monitor is not able to display the action fast and smooth, you're not getting the most out of your hardware investment.
With Asus VG248QE, you don't have to worry about lag, ghosting, or choppy action! Choosing another mid-sized gaming monitor will also offer quite good motion performance, as well as comes with a 3D Vision 2 kit and a multitude of I/O ports, but it'll cost you just a couple of hundred dollars more!
Design and Features
The design of VG248QE is similar to its bigger sibling, the Asus VG278HE. It had a glossy black cabinet, thin shiny black bezels, and a matching stand that has a round base and a telescoping mounting arm that provides height, tilt, and pivot adjustability. The base of the monitor has a 3D logo, indicating that the panel is 3D ready, but like with the Asus VG278HE model, the monitor doesn't come with the Nvidia 3D Vision 2 kit necessary to view content that's multi-dimensional.
On the right side beneath the lower bezel are six labeled function buttons (also the power switch). Some of the buttons act as hotkeys for things like the GamePlus feature and picture presets. All video inputs are digital (DisplayPort, HDMI, dual-link DVI) and are located at the back of the cabinet. They are joined by a headphone jack and an audio input. This model doesn't have a webcam, an analog video input or any USB ports. But it does have a set of embedded 2-watt speakers.
ASUS VG248QE has also six presets, including Standard, Game, Scenery, sRGB, Theater, and Night View modes. Other settings for picture include Contrast, Color Saturation, Color Temperature, Brightness, and Skin Tone. Also, Smart View setting which adds luminance for viewing with a side angle.
The monitor comes with an audio cable and a dual-link DVI but when it comes to DisplayPort and HDMI cables - you're on your own. Also, there is a three-year parts, backlight, and labor warranty included.
Performance Altogether, ASUS VG248QE is a solid performer. Its color accuracy is both not terrible and not ideal. From the DisplayMate 64-Step Grayscale test, the VG248QE was able to display nearly every shade of grey.
Just like with the most TN monitors, the VG248QE has narrow viewing angles. This becomes more of a problem when the panel is rotated and the bottom angle becomes angle of the left side.
The 144Hz refresh rate and 1-millisecond pixel response of the panel combined delivers an excellent gaming experience. There is no obvious lag or image smearing while playing, as well as panning scenes is stutter-free and crisp.